Perforated Metal in Kansas
Branko Perforating FWD Inc.
Professionally Made Perforated Metal in Kansas
Looking to deal with a professional leader of perforated metal in Kansas? Branko Perforating has an expertly customized perforated metal that is sure to meet your needs! We supply perforated metal to several industries, including filters, lighting, agriculture, appliances, HVAC, audio, medical, and many more!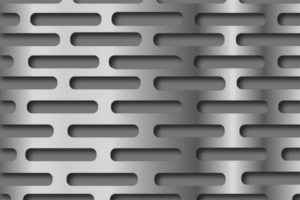 Our high-tech modern rollers and machines are capable of perforating multiple different designs, patterns, holes, and layouts. We personalize each order to fit your exact custom specifications. Not only do we individualize each project, we get it done quickly and efficiently! On top of that, we have nationwide shipping and get it to you as soon as possible. That's what makes us the trusted company when it comes to supplying perforated metal in Kansas.
Standard and Custom Perforating – Hundreds of patterns to choose from (round holes, square holes, slots, oblong, hexagon, and decorative patterns – to name just a few)! We can produce a perforated sheet, coil, or slit coil. Stocking programs are available upon request. Our main goal is to provide you a quality product, with even better service.
Take a look at our gallery to see a few of our finished products.
To get started on your order of perforated metal in Kansas, contact us today! We look forward to hearing from you!
Learn More
---
Special Orders
---
We cater to special orders! We have the experience and know-how to produce large custom orders in both large volume & shorter production runs!
---
Consistent Quality
---
Our facility is fully-automated with state-of-the-art equipment that uses the latest technology to guarantee consistent quality, no matter the volume of your run.
---
Wide Selection
---
Offering expertise in perforated metals of all types as well as expanded metal and fabrication services to finish your product the way you want it!
---
TImely Delivery
---
We take pride in completing the job to fit your tight production schedule. All orders are promptly filled and shipped to ensure on-time delivery.
Types of Material We Perforate
• All Galvanized Products
• Aluminized
• Cold Rolled
• Hot Rolled Pickled and Oiled
• Aluminum
• Stainless
• Tin Plate
Types of Finished Products
• Coils – Slit and Master
• Re-squared Blanks
• Sheets
• Finished End Patterns
• Unfinished End Patterns
• Margins Per Your Specifications
• Unusual shapes and forms, fabricated to your needs
Other Services
• Shearing
• Forming
• Notching
• Stamping
• Degreasing
• PVC Coating
• Plating